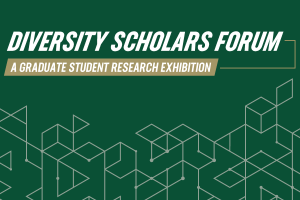 March 24, 2023 -

12:00 PM

to

1:00 PM
Popp Martin Student Union, Multipurpose Room 340
Sponsored by the Graduate School and in conjunction with the Graduate Research Symposium, the inaugural Diversity Scholars Forum features graduate student and postdoctoral research related to diversity, equity, inclusion and justice.
The Diversity Scholars Forum showcases research that centers on DEIJ issues related to the community - both on campus and in the greater Charlotte community. To showcase their work, amplify their voices and celebrate the value of diversity, student presenters will give short lightning-round style poster presentations about their research projects.

The Forum will be followed by a reception and award presentation. No RSVP is necessary to attend.
Diversity Scholars Forum Presenters:
Cato College of Education
Cassie Bryson-Evans

- Educational Leadership, Ed.D. program

Learning from

Testimonios About Equity in Educational Leadership: Experiences of Latinx public school administrators in North Carolina

The study, Learning from Testimonios about Equity in Educational Leadership: Experiences of Latinx Public School Administrators in North Carolina, is important because it uses an equity lens to explore the experiences/testimonios of Latinx administrators: their perceptions and experiences as public-school administrators in North Carolina. There is a need to explore the lived experiences of Latinx school administrators in North Carolina in order to foster understanding about the importance of racial and ethnic representation among teachers and school administrators for all students. This study provides recommendations at both the district and state levels to support the advancement and service of North Carolina's Latinx educators in school leadership roles.

Aaron Nance

- Curriculum & Instruction, Ph.D. program

Topic: Overrepresentation of Black Students in Special Education classes in Elementary School in North Carolina

Black boys in elementary schools in North Carolina are often over-identified in SPED classes because of the lack of training for White teachers, which can contribute to the school-to-prison pipeline. Having adequate training programs for preservice teachers and diversity, equity, inclusion, and justice efforts can help to mitigate the suspension and expulsion rate of Black boys.

Joshua Pope

- Curriculum & Instruction, Ph.D. program

Topic: STEM for All: The Effects of Early Access and Awareness

This research will investigate the effects that the lack of early awareness and accessibility to all things STEM (Science, Technology, Engineering, and Math) may have on many marginalized students compared to students in more affluent communities. Adequate STEM resources, STEM programs, and qualified educators, may help marginalized students perform better in STEM subjects, increase their interest in STEM, foster creativity, and increase the number of minorities that major in STEM fields in college. Early access and awareness to STEM may help increase the dismissal number of minorities that pursue STEM careers.

Emily Shaw

- Educational Leadership, Ed.D. program

Topic: An Exploratory Study of Barriers and Supports Faced by Women Superintendents

Women have always had an integral role in the workforce but are underrepresented in advanced leadership roles. This limited presence of women in top leadership roles also holds true in education. Women have always had a strong presence in the teaching profession and other entry-level leadership positions in education, but their representation decreases in superintendencies and other higher-ranking roles. While the number of women in educational leadership positions has increasingly grown over the last few decades there still are discrepancies between the number of women in education and the number of women represented in educational leadership roles, specifically the superintendency. It is important to explore the supports and barriers faced by women superintendents to help close the gender gap.

Liane She

- Educational Leadership, Ed.D. program

Topic: Faculty Experiences in Teaching Students with Vision Impairments in Higher Education Online Language Courses

Learning a foreign language is often a requirement for all students when attending a university. Before and during the COVID-19 pandemic, technology has been playing an important role in higher education online courses and has always been present in language courses. As such, there are a variety of accessible tools available for faculty to implement in their courses. However, in the humanities field (as well as many others), training on online accessibility and ADA compliance is often needed before students with special needs enroll to courses. Therefore, I aim to focus on faculty's experiences when teaching languages to students with vision impairment online, particularly to help improve visually impaired students' learning experiences and to shed light on online accessibility in foreign language courses.

Lauren Slane

- Educational Leadership, Ed.D. program

Topic: Women of Color in STEM: Navigating the Transfer Experience

There is an increased awareness of the societal benefits of having a more diverse perspective within STEM education and the STEM workforce. As access institutions and the entry point into higher education for so many, community colleges are positioned to have a positive impact of bringing a more diverse student group into STEM. In this qualitative phenomenological transfer student study, I seek to understand how pre- and post-transfer women of color in STEM majors experience the transition into university from community college, while exploring how social identities inform STEM-related experiences.

Cynthia Stone

- Educational Leadership, Ed.D. program

Topic: Where Are The Black Women? The Underrepresentation and Experiences of Black Women in Intercollegiate Athletic Leadership

My research is important to DEI, as oftentimes the espoused DEI goals and initiatives enacted at colleges and universities, specifically in staff and administrative hiring, are viewed distinctly separate from intercollegiate athletic departments, even though these areas are an influential aspect on college campuses nationwide and are a part of higher education. My research adds to the DEI landscape by illuminating the lack of Black women in intercollegiate athletic leadership positions and their experiences accessing and navigating the athletic leadership hierarchy.

Yi Wang

- Educational Research Measurement & Evaluation, Ph.D. program

Topic: How do Community College Students Have Different Engagement Patterns?

This research explored if different community college student subgroups have different engagement patterns by examining the construct and measurement invariance of the 2017 Community College Survey of Student Engagement. Evidence from quantitative analysis supported an 8-factor construct, among which, interaction with faculty and peers (IFP) and institutional support (ISP) resonate with socioacademic integration, a recent development on student engagement. Findings from this research will inform policy makers and practitioners of effective practices to promote student success, especially for historically underserved, underrepresented student groups.

Johnine Williamson

- Educational Leadership, Ed.D. program

Topic: The Voices of African American Men with Learning Disabilities in a four-year Predominantly White Institution

Fifty percent of African American men with learning disabilities will not persist past their freshman year of college (Newman et al., 2011). Presumably postsecondary institutions are responsible for providing a social and academic environment that allows all students the opportunity to reach their maximum potential. However, African American men with learning disabilities are often left out of the conversation and regrettably, predominately white institutions (PWI) are having trouble retaining African American men with learning disabilities.
College of Liberal Arts and Sciences
Haley Cooper -

Health Psychology, Ph.D. program

Clysha Whitlow

- Health Psychology, Ph.D. program

Shaina Glass

- Health Psychology, Ph.D./Cognitive Science, CERT program

Topic: Collecting Intersectional Data For LGBTQ+ Youth Mental Health Research: An Environmental Scan Review

Stigma is a fundamental cause of health disparities, including mental health disparities among LGBTQ+ youth. Interlocking systems of power, such as racism and capitalism, drive experiences of stigmatization, which makes intersectional approaches to data collection necessary to address mental health challenges faced by LGBTQ+ adolescents.The purpose of this study is to investigate whether current best practices for collecting data on race, socioeconomic status, sexual orientation and gender identity, allow an understanding of how intersecting systems of oppression impact mental health outcomes among LGBTQ+ youth.

Jay Gulick

- Sociology, M.A. program

Topic: Marginalized & Missing Life: Pandemic Related Grief of LGBTQ+ College Students in the South

The results find that a sample of students at a southern liberal arts from this population of interest 1) have a higher severity of negative mental health outcomes than students with binary gender or heterosexual identities. 2) grieved social losses more severely and 3) were more likely to disapprove of their college's mental health resources than heterosexual students. These results should be considered by schools in the South because the intersection of these identities and geographic location could have a unique impact on the mental health of these students, the importance of a "found family" for their college experience, and the approval and therefore effectiveness of on campus mental health resources.

Maverick Huneycutt

- History, MA program

Topic: "So Rude and So Crude": Charlotte's History with Urban Renewal and the Annihilation of the African American Community and Culture of Brooklyn: 1960-1970

The topic of urban renewal itself is an important subject to study. However, my research outlines the importance of the Brooklyn neighborhood to Charlotte's African American community and culture. Using many oral histories from former Brooklyn residents, I attempted to accurately represent the Brooklyn neighborhood and what was lost due to urban renewal.

Rachel Siegal

- Health Psychology, Ph.D. program

Topic: "Until the neighborhood become majority white, they're not going to do anything": Understanding community violence within the context of structural racism, rapid gentrification, and community advocacy

This research amplifies the perspectives of community members living and working in Beatties Ford Corridor, a predominantly Black community in Charlotte-Mecklenburg that has disparate and high rates of community violence, which local systems, policies, and programs have historically excluded and marginalized. Through interviews (n = 32) with community members, we identified policy-, systems-, and neighborhood-level factors that participants perceive as contributing to feeling unsafe. Results can be used by local decision makers, in conjunction with community members and partners, to identify solutions to increase safety and reduce the disparate and high rates of community violence in Charlotte-Mecklenburg.

Caroline West

- Chemistry, M.S. program

Topic: Drugs, DNA, and Depression

Individuals that are part of a racial or ethnic minority or individuals with low socioeconomic status are drastically underserved when it comes to mental health treatment. However, even for those that overcome the accessibility and resource barriers to seek treatment, current mental health solutions are highly ineffective and have many undesirable side effects. This raises the question of if serotonin may be a symptom of depression instead of the cause, and this research aims to understand the DNA structural changes associated with mental illness.

Miguel Wilson

- Sociology, M.A./Organizational Science Ph.D. program

Topic: "I had to make a sacrifice": The Gender-Diverse Emotional Labor Framework (GeDEL)

My work aims to improve the health of gender-diverse workers by examining the invisible labor that they commonly navigate at work. Existing emotional labor frameworks do not fully encompass gender-related labor that may occur both outside and within the workplace. Broadening our understanding of emotional labor has implications for occupational health policy to enhance workers' health.
Belk College of Business
Helen Gardner

- Business Administration, Ph.D. program

Topic: 'Monetary Policy and Rate Inequalities'

When the Federal Reserve pursues a tighter monetary policy the associated increases in interest rates for savers are not equal across different demographic groups. In particular, interest rates on savings accounts increase the most for products with higher minimum deposit amounts and in census tracts with lower median household income, lower percentage minority population, lower percentage black population, lower percentage population over the age of 65, lower percentage population with college degrees, and lower percentage population with poor English. Hence tighter monetary policy appears to increase inequality through the savings channel across some dimensions (race, English language skills, existing savings amounts), but reduce inequality across other dimensions (education, age, income).