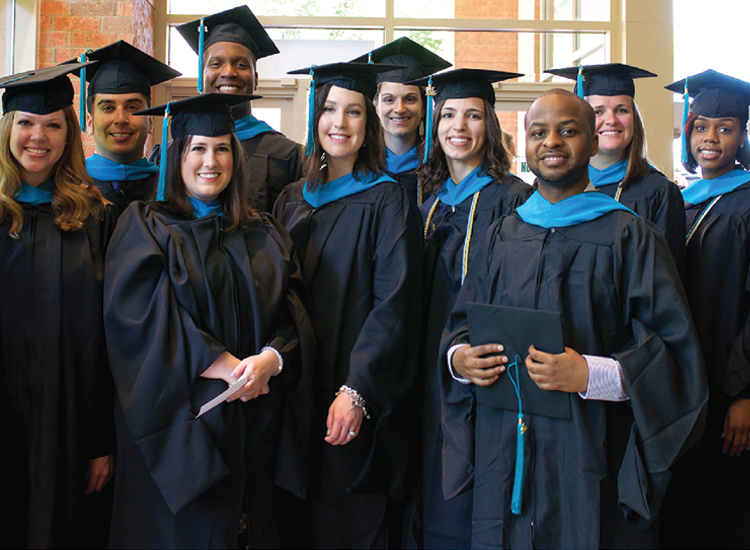 UNC Charlotte MPA Program Rises To Top 17% In U.S. News & World Report Best Graduate School Rankings
College of Liberal Arts & Sciences
The latest U.S. News & World Report rankings place the Gerald G. Fox Master of Public Administration at #48 nationally, with the program moving into the top 17 percent of all ranked public affairs programs.
For UNC Charlotte's nationally accredited MPA program, its ranking marks a 19% increase over last year's results. U.S. News released its new 2022 "Best Graduate Schools Rankings" on March 30.
The latest recognition highlights the MPA program's exceptional commitment to students' needs and its leadership on societal issues through research and innovation, said Nancy A. Gutierrez, dean of the College of Liberal Arts & Sciences, which houses the program.
"Our MPA program engages talented students, faculty and staff, and collaborates with community partners to provide excellent education for our students," Gutierrez said. "Our faculty work closely with community partners and with alumni to design educational offerings that prepare graduates for fulfilling, impactful lives."
The ranking places the MPA in good company, tied with prestigious institutions like Portland State, Virginia Tech, University of Missouri, Brigham Young University, Brown University, SUNY, George Mason University, Indiana University-Purdue University and N.C. State University.
"Our faculty continue to publish important research, and the reputation of our program continues to grow," said MPA Program Director Thomas Barth. "Our faculty have worked very hard, collaborating with faculty at other highly ranked universities and presenting their research at national and international conferences and in significant journals."
The program offers a strong education in core management and leadership competencies. It features concentrated areas of study in urban management and policy, nonprofit management, emergency management, public finance, and arts administration.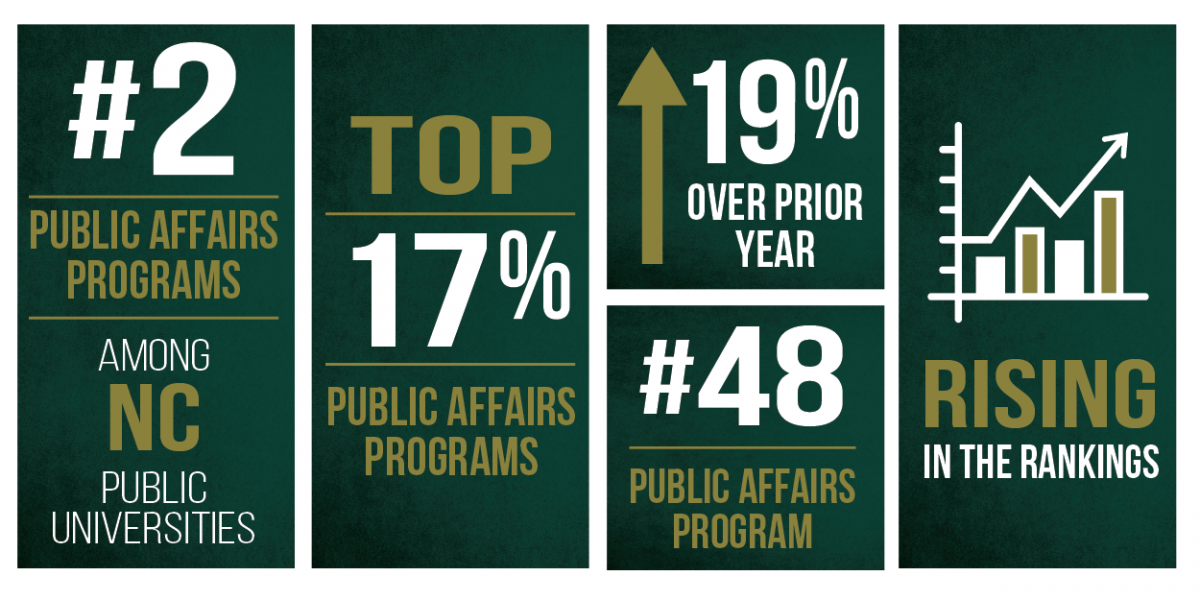 The program is tied as the #3 ranked public affairs program in North Carolina and tied as the #2 ranked public affairs program at a public North Carolina university. In addition to its strong overall marks, the MPA program also achieved national specialty area rankings, tied for
#19 in local government management

#20 in public finance and budgeting

#32 in nonprofit management
"The specialty area rankings are significant, because leaders in public affairs schools and programs across the nation recognize our expertise in these target areas," Barth said. "We are focused on these and other specialties in response to the needs of our students and employers in our community who desire expertise in these areas."
The UNC Charlotte program focuses on graduates' ability to apply the knowledge they gain, Barth said. "We continue to broaden our students' access to diverse settings that include internships, fellowships, and professional networking opportunities that are critical to their careers within the field of public administration," he said. "Even in the midst of the COVID-19 pandemic, our students have gained real-world experiences that will benefit them in their careers."
The rankings of public affairs programs are based solely on peer assessment survey results. U.S. News surveyed deans, directors and department chairs representing 285 master's programs in public affairs and administration. Two surveys were sent to each school.
Respondents were asked to rate the academic quality of master's programs on a scale of 1 (marginal) to 5 (outstanding). They were instructed to select "don't know" if they did not have enough knowledge to rate a program. Scores for each school were totaled and divided by the number of respondents who rated that school. The lists of schools, individuals surveyed and specialty areas evaluated were provided by the Network of Schools of Public Policy, Affairs, and Administration, known as NASPAA, and by the Association for Public Policy Analysis and Management.
Contributed by Lynn Roberson, CLAS communications director (words), and
Ashley Plyler, CLAS graphic designer (images)