Several sources of funding are available to help students pay for a graduate program at UNC Charlotte, including financial aid, tuition support, assistantships and fellowships. Some of those sources are available to any student, and some are available only to specific populations of UNC Charlotte students.
The links on this page will take you to information to locate funding and provide directions about how to apply. However, your most important funding resource is your Graduate Program Director (GPD), so reach out to him or her for details about assistantship and tuition availability.
UNC Charlotte has licensed access to PIVOT, a funding resource database with local, state, federal, international and foundation-supported opportunities. Set up an account with your UNC Charlotte ID to search for opportunities. PIVOT will email updates on your searches daily or weekly.
North Carolina residents: visit this excellent website and learn about federal, state and non-loan options.
---
Sources of Graduate Funding:
Tuition and Health Insurance Support - Funding administered by the Graduate School that covers the cost of tuition and health insurance.
Assistantships and Employment - Graduate assistantships that require working up to 20 hours per week for a stipend. Teaching assistantships involve the activities of teaching a course while research assistantships involve research projects.
Philanthropic Awards - Admitted and continuing UNC Charlotte graduate students may apply for awards through the University Scholarship Office.
External Funding - S

ources of funding that are not affiliated with UNC Charlotte, such as local, state, federal, private, and institutional sources.

Financial Aid - Federal student loans, based on financial need and the estimated cost of attendance, are available from the Federal government.
Research Funding - The Office of Research and Economic Development provides a list of funding resources for graduate students broken down by field.
Graduate School Fellowships, Awards and Competitions - Fellowships are service-free awards that may include a stipend for living expenses and tuition and fees.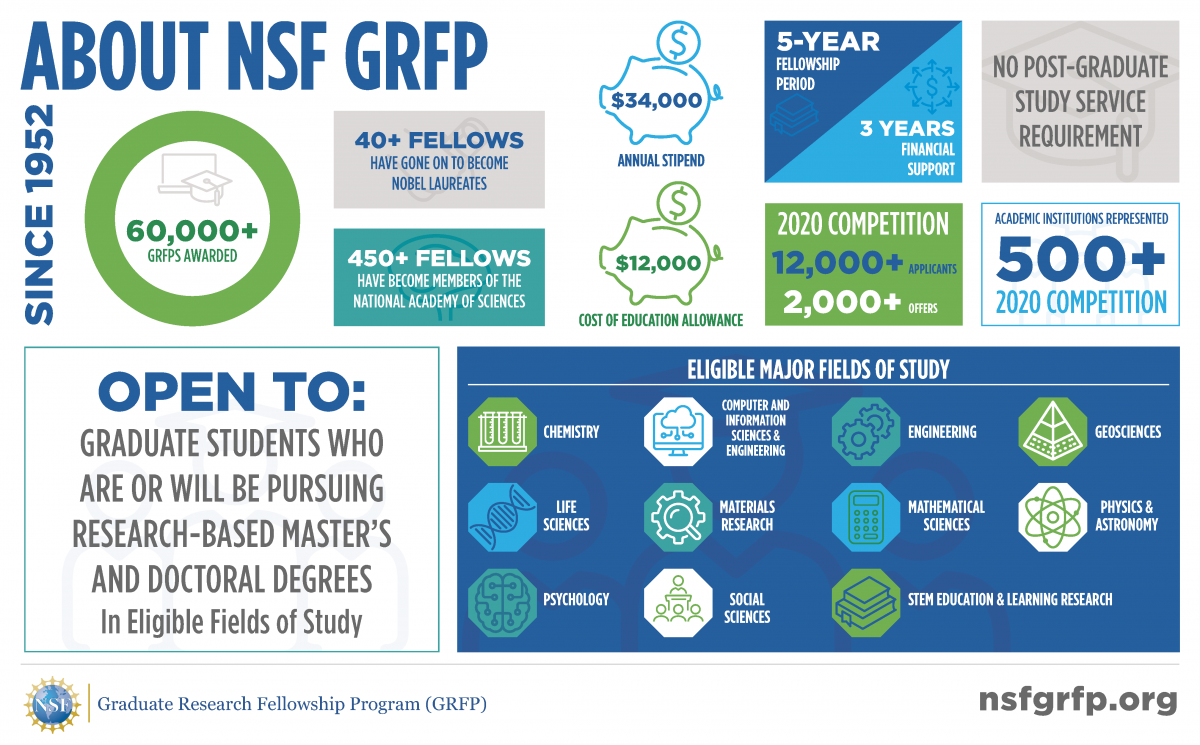 The National Science Foundation offers outstanding funding packages through its Graduate Research Fellowship Program. UNC Charlotte Director of Graduate Funding and Fellowships Dr. Julie Goodliffe encourages graduate students who are or will be pursuing researched-based master's and doctoral degrees, to visit their website for application details. Below she offers a few tips on being successful with your application:
Convince them of your intellectual merit throughout your entire application, including the written statements, letters of recommendation, published manuscripts and in preparation, presentations, transcripts, honors, and more;
Explain the broader impacts of yourself as a scientist - how supporting you will benefit society, and thus how your research goals will benefit humanity;
Always be specific, providing details that show your intellectual merit and broader impact.