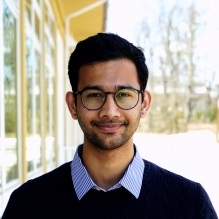 Graduate Student Strives to Balance Technological Achievement with Societal Needs
Currently pursuing his Ph.D. with a focus on Data Analytics and Higher Education, Yash Tadimalla recently returned from a trip to Cape Town, South Africa where he represented the World Student Platform for Engineering Education (SPEED) on the panel Engineering for Good - Peace & Humanitarian Engineering at the 2022 World Engineering Education Forum (WEEF).
The annual event is co-sponsored by The International Federation of Engineering Education Societies (IFEES), based in Washington DC. More than 350 delegates from 20 countries and six continents were in attendance.
So how does a graduate researcher from Charlotte find himself on the other side of the globe taking a stand for humanitarian causes?
Tadimalla has long been devoted to community service and equity and inclusion work – and understanding how our identity shapes that behavior. At the center of his quest for understanding is the intersectional lens, a concept that helps define how we experience and react to the world around us. That concept holds that, because each of us simultaneously belongs to many groups, we have complex identities that shape how we interpret things.
His dissertation, "Perception of AI: Understanding How Exposure to AI Influences Student Perception Through an Intersectional Lens," applies that theory to engineering.
"My research agenda is centered on exploring how an individual's identity impacts their experience of using, interacting and designing technology," he said. This study, he believes, is especially important "as we move into a world that is trying to balance humanity's race to achieve technological and mechanical advances with sustainability and an equitable approach to that progress."
He even created a board game to help others understand the concept of intersectionality: "It is inspired by the "Game of Life" in terms of progressing through various life events," he said. "But it has an element of D&D where a person has some agency to choose different paths or influence their trajectory based on the cards they have."
Tadimalla got his start on the international stage in 2017 when he attended the Global Engineering Student Forum in Malaysia and got involved with SPEED, where he contributed to development of a curriculum introducing service learning-oriented engineering projects in introductory engineering and computer science courses. Now as General Secretary with SPEED's executive board, Tadimalla helps lead and develop strategies to engage students across four continents.
So, with that kind of experience under his belt as a graduate student, where to go from here?
"I want to travel a lot and understand how people in different countries have approached technology integration into various societal structures," he said. "I am interested in roles that allow me to work in academia but also simultaneously collaborate with policymakers and Industry partners." He also shared he is always looking for collaborators who are interested to learn more about the things he is involved with.
Website: https://www.sriyashtadimalla.com/