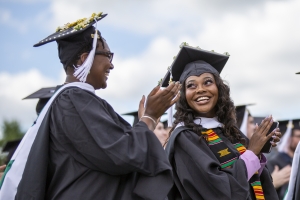 Doctoral Degrees Reach Historic High
The Spring 2022 Commencement on May 13 at the Jerry Richardson Football Stadium included 1,096 doctoral, master's and certificate students. That number includes the most Ph.D. degrees in a single term (61) since 2018, and at 178, the most doctoral degrees conferred yet in an academic year.
"Our number of graduating doctoral students continues to grow year after year, reflecting the growing strength of our research program," said Katherine Hall-Hertel, associate dean of the Graduate School.
The 6 p.m. Graduate School Commencement was one of three ceremonies hosted by the University over the weekend.
This year's graduates included some noteworthy achievers such as Naomi Nikita Thammadi, M.S., Data Science and Business Analytics, who is earning her degree after six years working in the software industry; MiKayla Raines, DBA, the youngest person yet to earn a Doctorate in Business Administration at Charlotte; and LaShana Wiggs, DBA, who serves as Vice President and Financial Crimes Manager in the Wholesale Banking Commercial Real Estate Risk Management division at Wells Fargo.
"Each year, I am amazed and exceedingly proud of the quality of our graduating students and our world-class faculty who have helped them develop over the years," said Graduate School Dean Tom Reynolds. "Our highly ranked graduate programs, coupled with the career preparation from our Center for Graduate Life and Learning give our graduates a decided edge in the marketplace."