Mentor training is part of the effort to improve the research climate at UNC Charlotte. The Graduate School offers mentor training to graduate faculty who seek to be better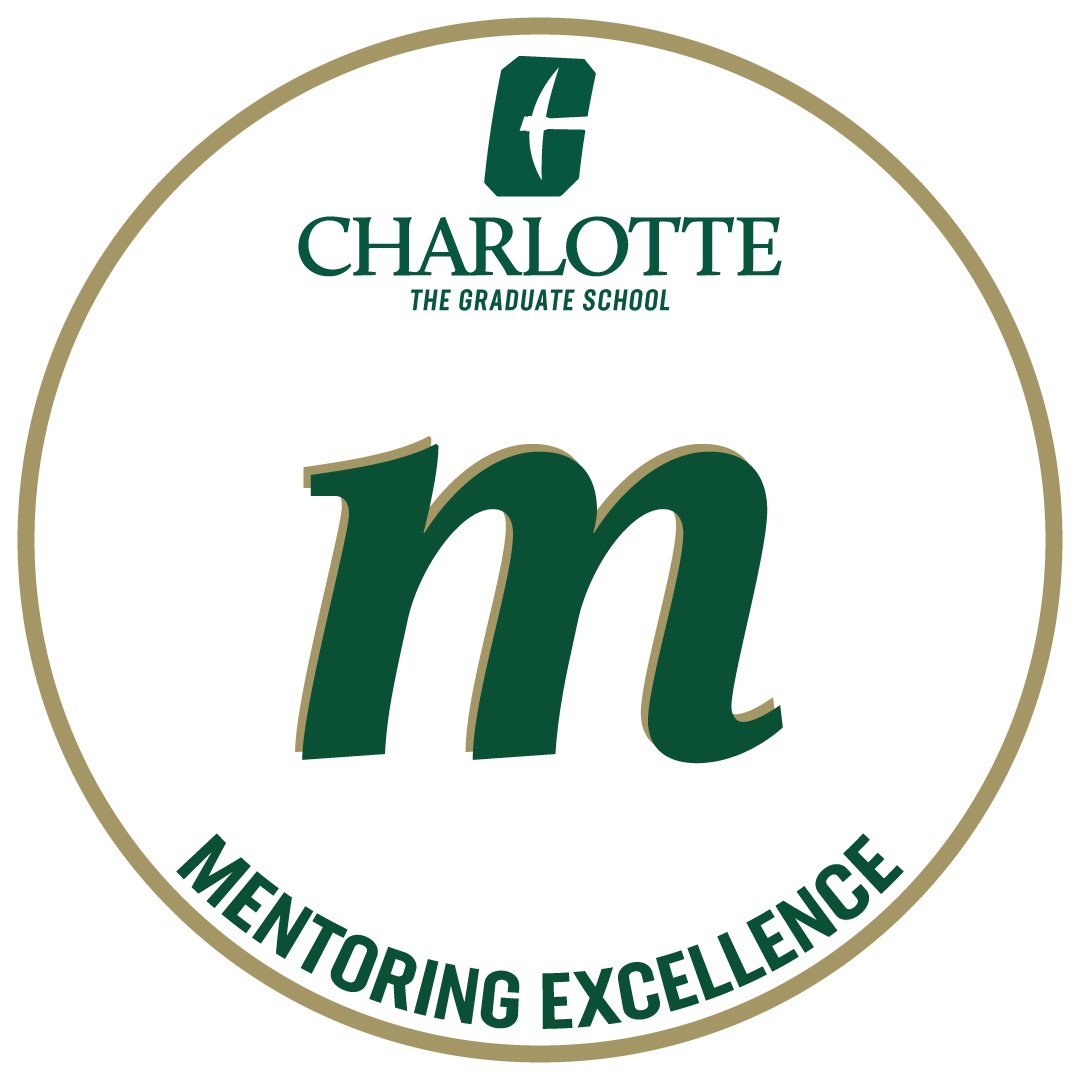 research mentors. This training comes from the evidence-based practices of the CIMER Institute (Center for Improved Mentoring Experiences in Research) at the University of Wisconsin. Training is intensive and class size is limited. Sessions will be offered at least three times per year, but can also be made available to a program by request.
View the Graduate School Calendar for upcoming training dates.
---
Mentoring Excellence Recipients
Name

College

Date

Heather Lipford

College of Computing & Informatics

11/3/2023

Todd Dobbs

College of Computing & Informatics

11/3/2023

Hongfei Xue

College of Computing & Informatics

11/3/2023

Jian Xiang

College of Computing & Informatics

11/3/2023

Liyue Fan

College of Computing & Informatics

11/3/2023

Vania Bredy

College of Health & Human Services

11/3/2023

Jyotsana Parajul

i

College of Health & Human Services

11/3/2023

Lufei Young

College of Health & Human Services

11/3/2023

Michelle Zuñiga

College of Humanities & Earth and Social Science

11/3/2023

Greg Wiggan

Cato College of Education

11/3/2023

Bettie Ray Butler

Cato College of Education

11/3/2023

Kirill Afonin

College of Science

11/3/2023

Barbara Thiede

College of Liberal Arts & Sciences

5/16/2023

Mara Hollander

College of Health & Human Services

5/16/2023

Morgan Carter

College of Liberal Arts & Sciences

5/16/2023

Anyea King

College of Health & Human Services

5/16/2023

Dan Du

College of Liberal Arts & Sciences

5/16/2023

Holly Johnson

Cato College of Education

5/16/2023

Maisha Cooper

College of Liberal Arts & Sciences

5/16/2023

Katherine Idziorek

College of Liberal Arts & Sciences

5/16/2023

Abbe LaBella

College of Computing & Informatics

5/16/2023

Ahmed Arif

College of Health & Human Services

5/16/2023

Amirhossein Ghasemi

College of Engineering

5/16/2023

Tehia Glass

Cato College of Education

5/16/2023

Jae Emerling

College of Liberal Arts & Sciences

5/16/2023

Laura McCorkle

Cato College of Education

5/16/2023

Cliff Scott

College of Liberal Arts & Sciences

5/16/2023

Janaka Lewis

Cato College of Education

5/16/2023
Alan May
College of Liberal Arts & Sciences
1/13/2023
Virginia Walker
Cato College of Education
1/13/2023
Shannon Sullivan
College of Liberal Arts & Sciences
1/13/2023
Phyllis Post
Cato College of Education
1/13/2023
Anthony Fernandes
College of Liberal Arts & Sciences
1/13/2023
Kristie Opiola
Cato College of Education
1/13/2023
Atif Farid Mohammad
College of Computing & Informatics
1/13/2023
Eliana Christou
Colege of Liberal Arts & Sciences
1/13/2023
Artur Wolek
College of Engineering
1/13/2023
Lan Kolano
Cato College of Education
1/13/2023
Nadia Najjar
College of Computing & Informatics
1/13/2023
Gabriel Terejanu
College of Computing & Informatics
1/13/2023
Liz McCormick
College of Arts + Architecture
4/1/2023
Elizabeth Miller
College of Liberal Arts & Sciences
1/13/2023
Gregory Mixon
College of Liberal Arts & Sciences
1/13/2023
Hania Al-Shamat
College of Liberal Arts & Sciences
1/13/2023
Jon Overton
College of Liberal Arts & Sciences
1/13/2023
Lisa Walker
College of Liberal Arts & Sciences
1/13/2023
Thomas Hutchens
College of Liberal Arts & Sciences
1/13/2023
Denis Machado
College of Computing and Informatics
1/13/2023
Susan Arthur
College of Health and Human Services
1/13/2023
Erin FitzPatrick
Cato College of Education
1/13/2023
Heather Taylor
Cato College of Education
1/13/2023
Kristen Beach
Cato College of Education
1/13/2023
Lan Kolano
Cato College of Education
1/13/2023
Martha Kropf
College of Liberal Arts & Sciences
4/8/2022
Nicole Peterson
College of Liberal Arts & Sciences

4/8/2022

Laurel Yohe
College of Computing and Informatics

4/8/2022

Kent Brintnall
College of Liberal Arts & Sciences

4/8/2022

Tisha Greene
Cato College of Education

4/8/2022

Donald Jacobs
College of Liberal Arts & Sciences

4/8/2022

Alex Dornburg
College of Computing and Informatics

4/8/2022

Kim Clark
College of Health and Human Services

4/8/2022

Erina Joyee
William States Lee College of Engineering

4/8/2022

Elisabeth Paquet
College of Liberal Arts & Sciences

4/8/2022

Vaughn Schmulz
College of Liberal Arts & Sciences

4/8/2022

Suzanne Leland
College of Liberal Arts & Sciences

4/8/2022

Camille Endacott
College of Liberal Arts & Sciences

4/8/2022

Sangkil Moon
Belk College of Business
8/12/2019
Maryrica Lottman
Cato College of Education
5/13/2019
Sandra Dika
Cato College of Education
5/13/2019
Mike Putman
Cato College of Education
8/12/2019
Scott Kissau
Cato College of Education
8/12/2019
Sejal Foxx
Cato College of Education
8/12/2019
Tina Heafner
Cato College of Education
8/12/2019
Beth Oyarzun
Cato College of Education
10/8/2019
Kristin Davin
Cato College of Education
10/8/2019
Xiaoxia Newton
Cato College of Education
10/8/2019
Jason Karp
Cato College of Education
1/7/2020
Jacob Scheff
Cato College of Education
1/7/2020
Ya-yu Lo
Cato College of Education
3/2/2020
Cynthia Gibas
College of Computing and Informatics
8/12/2019
Tom Moyer
College of Computing and Informatics
10/8/2019
William Tolone
College of Computing and Informatics
10/8/2019
Minwoo Lee
College of Computing and Informatics
3/2/2020
Marlon Mejias
College of Computing and Informatics
3/2/2020
Xi Niu
College of Computing and Informatics
3/2/2020
Robert Reid
College of Computing and Informatics
3/2/2020
Jessica Schlueter
College of Computing and Informatics
3/2/2020
Meera Sridhar
College of Computing and Informatics
3/2/2020
Aba Ebong
William States Lee College of Engineering
5/13/2019
Haitao Zhang
William States Lee College of Engineering
5/13/2019
Konstantinos Falaggis
William States Lee College of Engineering
5/13/2019
Maceej Noras
William States Lee College of Engineering
5/13/2019
Miguel Pando
William States Lee College of Engineering
5/13/2019
Nicole Barclay
William States Lee College of Engineering
5/13/2019
Terry Xu
William States Lee College of Engineering
5/13/2019
Youxing Chen
William States Lee College of Engineering
5/13/2019
John Daniels
William States Lee College of Engineering
8/12/2019
Olya Keen
William States Lee College of Engineering
8/12/2019
Valentina Cecchi
William States Lee College of Engineering
8/12/2019
Ahmed Arafa
William States Lee College of Engineering
10/8/2019
Dave Weggel
William States Lee College of Engineering
10/8/2019
Mariya Munir
William States Lee College of Engineering
10/8/2019
Mei Sun
William States Lee College of Engineering
10/8/2019
Milind Khire
William States Lee College of Engineering
10/8/2019
Mona Azarbayjani
William States Lee College of Engineering
10/8/2019
Tiefu Zhao
William States Lee College of Engineering
10/8/2019
Wei Fan
William States Lee College of Engineering
10/8/2019
Vincent Ogunro
William States Lee College of Engineering
3/2/2020
Elizabeth Smith
William States Lee College of Engineering
3/2/2020
George Shaw
College of Health and Human Services
5/13/2019
Katie Shue-McGuffin
College of Health and Human Services
8/12/2019
Alicia Dahl
College of Health and Human Services
10/8/2019
Elena Platonova
College of Health and Human Services
10/8/2019
Franck Diaz Vasquez
College of Health and Human Services
10/8/2019
Jan Warren-Findlow
College of Health and Human Services
10/8/2019
Meagan Zarwell
College of Health and Human Services
10/8/2019
Monika Sawhney
College of Health and Human Services
10/8/2019
Reuben Howden
College of Health and Human Services
10/8/2019
Susan McCarter
College of Health and Human Services
10/8/2019
Suzanne Boyd
College of Health and Human Services
10/8/2019
Tianca Crocker
College of Health and Human Services
10/8/2019
Travis Hales
College of Health and Human Services
10/8/2019
Elena Platonova
College of Health and Human Services
3/2/2020
Meredith Troutman-Jordan
College of Health and Human Services
3/2/2020
Malin Pereira
Honors College
10/8/2019
Didier Dreau
College of Liberal Arts & Sciences
5/13/2019
Angelique Hjarding
College of Liberal Arts & Sciences
5/13/2019
Deb Thomas
College of Liberal Arts & Sciences
5/13/2019
Laurie Garo
College of Liberal Arts & Sciences
5/13/2019
Heather R. Perry
College of Liberal Arts & Sciences
5/13/2019
Jeffrey Killman
College of Liberal Arts & Sciences
5/13/2019
Monica Rodriguez
College of Liberal Arts & Sciences
5/13/2019
Rosario Porras-Aguilar
College of Liberal Arts & Sciences
5/13/2019
Jaclyn Piatak
College of Liberal Arts & Sciences
5/13/2019
Consuelo Salas
College of Liberal Arts & Sciences
5/13/2019
Alexia Galati
College of Liberal Arts & Sciences
5/13/2019
Erika Montanaro
College of Liberal Arts & Sciences
5/13/2019
Jennifer Webb
College of Liberal Arts & Sciences
5/13/2019
Sara Levens
College of Liberal Arts & Sciences
5/13/2019
Adam Reitzel
College of Liberal Arts & Sciences
8/12/2019
Bernadette Donovan-Merkert
College of Liberal Arts & Sciences
8/12/2019
Juan L. Vivero-Escoto
College of Liberal Arts & Sciences
8/12/2019
Concepcion Godev
College of Liberal Arts & Sciences
8/12/2019
Shazhong Deng
College of Liberal Arts & Sciences
8/12/2019
Cheryl Brown
College of Liberal Arts & Sciences
8/12/2019
Stephanie Moller
College of Liberal Arts & Sciences
8/12/2019
Meghan Barnes
College of Liberal Arts & Sciences
10/8/2019
Victoria Scott
College of Liberal Arts & Sciences
10/8/2019
Virginia Gil-Rivas
College of Liberal Arts & Sciences
10/8/2019
Erin Banks
College of Liberal Arts & Sciences
1/7/2020
Jose Batista
College of Liberal Arts & Sciences
1/7/2020
Jeanette Bennett
College of Liberal Arts & Sciences
1/7/2020
Amy Canevello
College of Liberal Arts & Sciences
1/7/2020
Dong Dai
College of Liberal Arts & Sciences
1/7/2020
Joseph Dippong
College of Liberal Arts & Sciences
1/7/2020
Cynthia Hancock
College of Liberal Arts & Sciences
1/7/2020
Tino Hofmann
College of Liberal Arts & Sciences
1/7/2020
Anne Kronberg
College of Liberal Arts & Sciences
1/7/2020
Jae Hoon Lim
College of Liberal Arts & Sciences
1/7/2020
Christopher Mellinger
College of Liberal Arts & Sciences
1/7/2020
Hannah Peach
College of Liberal Arts & Sciences
1/7/2020
Menelaos Poutous
College of Liberal Arts & Sciences
1/7/2020
Christine Richardson
College of Liberal Arts & Sciences
1/7/2020
Monica Rodriguez
College of Liberal Arts & Sciences
1/7/2020
Stanley Schneider
College of Liberal Arts & Sciences
1/7/2020
Elizabeth Stearns
College of Liberal Arts & Sciences
1/7/2020
Junya Tomida
College of Liberal Arts & Sciences
1/7/2020
Andrew Truman
College of Liberal Arts & Sciences
1/7/2020
Letha Victor
College of Liberal Arts & Sciences
1/7/2020
Shan Yan
College of Liberal Arts & Sciences
1/7/2020
Karen Flint
College of Liberal Arts & Sciences
3/2/2020
Joanna Krueger
College of Liberal Arts & Sciences
3/2/2020
Shaoyu Li
College of Liberal Arts & Sciences
3/2/2020
Paola Lopez-Duarte
College of Liberal Arts & Sciences
3/2/2020
Olga Padilla-Falto
College of Liberal Arts & Sciences
3/2/2020
Caryn Striplin
College of Liberal Arts & Sciences
3/2/2020
Michael Walter
College of Liberal Arts & Sciences
3/2/2020
Kyle Cox
Cato College of Education
8/20/2020
Cathy Howell
Cato College of Education
8/20/2020
Brett Tempest
William States Lee College of Engineering
8/20/2020
Yong Zhang
William States Lee College of Engineering
8/20/2020
Jessamyn Bowling
College of Health and Human Services
8/20/2020
Candace Brown
College of Health and Human Services
8/20/2020
Laura Armstrong
College of Liberal Arts & Sciences
8/20/2020
Erin Basinger
College of Liberal Arts & Sciences
8/20/2020
David Boyd
College of Liberal Arts & Sciences
8/20/2020
Kausik Chakrabarti
College of Liberal Arts & Sciences
8/20/2020
Tom Schmedake
College of Liberal Arts & Sciences
8/20/2020
Heather Smith
College of Liberal Arts & Sciences
8/20/2020
Tingting Xiang
College of Liberal Arts & Sciences
8/20/2020
Jie Zheng
College of Liberal Arts & Sciences
8/20/2020
Dimitris Papanikolaou
College of Arts+Architecture
9/1/2020
Peter Schwarz
Belk College of Business
9/1/2020
Cindy Gilson
Cato College of Education
9/1/2020
Bruce Taylor
Cato College of Education
9/1/2020
Vincent Ogunro
William States Lee College of Engineering
9/1/2020
Lorenzo N. Hopper
College of Health and Human Services
9/1/2020
Richard Chi
College of Liberal Arts & Sciences
9/1/2020
Sandra Clinton
College of Liberal Arts & Sciences
9/1/2020
Erin Eldridge
College of Liberal Arts & Sciences
9/1/2020
Andrea Freidus
College of Liberal Arts & Sciences
9/1/2020
Javier García León
College of Liberal Arts & Sciences
9/1/2020
Colleen Hammelman
College of Liberal Arts & Sciences
9/1/2020
Sara Juengst
College of Liberal Arts & Sciences
9/1/2020
Fumie Kato
College of Liberal Arts & Sciences
9/1/2020
Victoria Rankin
College of Liberal Arts & Sciences
9/1/2020
Joan Lachance
Cato College of Education
10/29/2020
Jun Wang
College of Computing & Informatics
10/29/2020
Jennifer Weller
College of Computing & Informatics
10/29/2020
Richard White III
College of Computing & Informatics
10/29/2020
Jerry Dahlberg
William States Lee College of Engineering
10/29/2020
Kimberly Clark
College of Health and Human Services
10/29/2020
Joe Marino
College of Health and Human Services
10/29/2020
Susan M. Sell
College of Health and Human Services
10/29/2020
Catherine Fuentes
College of Liberal Arts & Sciences
10/29/2020
Lydia Light
College of Liberal Arts & Sciences
10/29/2020
Dennis Ogburn
College of Liberal Arts & Sciences
10/29/2020
Sharon Watson
College of Liberal Arts & Sciences
10/29/2020
| | | |
| --- | --- | --- |
| Jennifer Langhinrichsen-Rohling | College of Liberal Arts & Sciences | 11/20/19 |
| Bao-Hua Song | College of Liberal Arts & Sciences | 11/20/19 |
| Ann Mickelson | Cato College of Education | 11/21/19 |
| Amy Canevello | College of Health and Human Services | 11/23/19 |
| Shi Chen | College of Health and Human Services | 2/10/20 |
| Ru Zhou | College of Liberal Arts and Sciences | 2/10/20 |
| Allison Burfield | College of Health and Human Services | 3/11/20 |
| Ian C Binns | Cato College of Education | 7/15/20 |
| JaneDiane Smith | Cato College of Education | 7/15/20 |
| shenen chen | William States Lee College of Engineering | 7/16/20 |
| Theresa Mannah-Blankson | Belk College of Business | 7/17/20 |
| Alyssa McGonagle | College of Liberal Arts and Sciences | 7/17/20 |
| Ann E Loraine | College of Computing and Informatics | 9/24/20 |
| Eugenia Lo | College of Liberal Arts and Sciences | 9/29/20 |
| Pali De Silva | College of Liberal Arts and Sciences | 9/29/20 |
| Ahmed El-Ghannam | William States Lee College of Engineering | 9/29/20 |
| Mohamed Shehab | College of Computing and Informatics | 10/6/20 |
| Alan May | College of Liberal Arts and Sciences | 1/29/21 |
| Anthony Fernandes | College of Liberal Arts and Sciences | 1/29/21 |
| Kent Brintnall | College of Liberal Arts and Sciences | 12/1/21 |
| Tisha Greene | Cato College of Education | 12/2/21 |
| Patrick Allen Robinson | College of Health and Human Services | 12/2/21 |
| Ayesha Sadaf | Cato College of Education | 12/4/21 |
| Abbey Thomas Fenwick | College of Liberal Arts and Sciences | 12/6/21 |
| Lisa Slattery Walker | College of Liberal Arts and Sciences | 12/6/21 |
| Nicole peterson | College of Liberal Arts and Sciences | 12/6/21 |
| Camille Endacott | College of Liberal Arts and Sciences | 12/6/21 |
| Erik Saule | College of Computing and Informatics | 12/7/21 |
| Fushcia Hoover | William States Lee College of Engineering | 12/7/21 |
| Donald Jacobs | College of Computing and Informatics | 12/7/21 |
| Michelle Zuniga | College of Liberal Arts and Sciences | 12/7/21 |
| Yang Cao | College of Liberal Arts and Sciences | 12/7/21 |
| John Russell Taylor | College of Liberal Arts and Sciences | 12/7/21 |
| Vaughn Schmutz | College of Liberal Arts and Sciences | 12/7/21 |
| Elise Berman | College of Liberal Arts and Sciences | 12/8/21 |
| Artur Wolek | William States Lee College of Engineering | 1/29/21 |
| Atif Farid Mohammad | College of Computing and Informatics | 1/29/21 |
| Eliana Christou | College of Liberal Arts and Sciences | 1/29/21 |
| Gabriel Terejanu | College of Computing and Informatics | 1/29/21 |
| Kristie Opiola | Cato College of Education | 1/29/21 |
| Lan Kolano | Cato College of Education | 1/29/21 |
| Nadia Najjar | College of Computing and Informatics | 1/29/21 |
| Phyllis Post | Cato College of Education | 1/29/21 |
| Shannon Sullivan | College of Liberal Arts and Sciences | 1/29/21 |
| Virginia Walker | Cato College of Education | 1/29/21 |
| Albert Park | College of Computing and Informatics | 1/29/21 |
| Cory Brouwer | College of Computing and Informatics | 1/29/21 |
| Harini Ramaprasad | William States Lee College of Engineering | 1/29/21 |
| Jeremy Jay | College of Computing and Informatics | 1/29/21 |
| Jinpeng Wei | College of Computing and Informatics | 1/29/21 |
| Julio Bahamon | William States Lee College of Engineering | 1/29/21 |
| Liz Cooper | College of Computing and Informatics | 1/29/21 |
| Mohsen Dorodchi | William States Lee College of Engineering | 1/29/21 |
| Siddharth Krishnan | College of Computing and Informatics | 1/29/21 |
| Tonya Frevert | College of Computing and Informatics | 1/29/21 |
| Weichao Wang | College of Computing and Informatics | 1/29/21 |