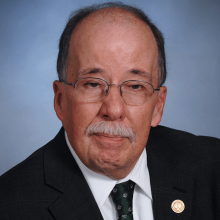 Tom Reynolds, who retired Jan. 1, 2023, served as associate provost for graduate programs and dean of the Graduate School since 2002. Upon retirement, he was assigned dean emeritus status by the UNC Charlotte Board of Trustees.
Reynolds guided the Graduate School through a period of significant growth and record enrollment. UNC Charlotte's graduate student population increased by 43% and the number of graduate degrees awarded increased by 35% during his tenure. He also was instrumental in developing funding opportunities for graduate students and postdoctoral fellows, increasing resources for graduate stipends through grants and contracts and forming a University-wide task force to consider all issues of graduate financial support at UNC Charlotte.
Reynolds and his wife, Claudia, have made gifts to UNC Charlotte totaling more than $1 million to establish and endow important graduate research, awards and fellowships including the Thomas L. Reynolds Graduate Student Research grant program, the Thomas L. Reynolds Graduate Program Leadership Award, the Claudia M. Reynolds Graduate Fellowship and the Faye Jacques Memorial Graduate Fellowship.
The Thomas L. Reynolds Center for Graduate Life and Learning was named in his honor.
Read more at Inside UNC Charlotte.