Monday, February 15, 2021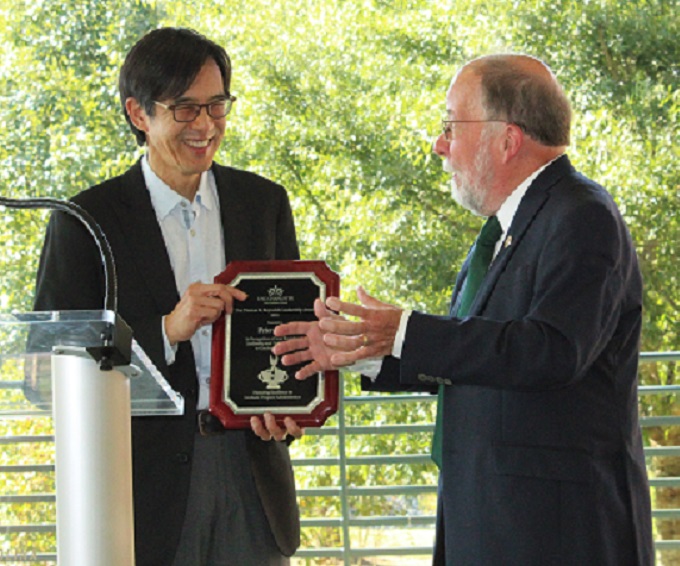 Peter Wong, Associate Professor of Architecture, was selected to receive the Thomas L. Reynolds Leadership Award for 2020-2021 for his contributions to student success above and beyond his teaching role.
The Reynolds Leadership Award honors excellence in graduate program administration and is presented annually to a Graduate Program Director (GPD) or Graduate Program Coordinator (GPC). Recipients are selected by a committee of previous winners, the Graduate Council chair and Graduate School staff.
"Professor Wong has demonstrated exemplary leadership for many years," said Associate Provost and Graduate School Dean Tom Reynolds. "He is an energetic, creative, dedicated Graduate Program Director and a strong mentor to both students and faculty."
Among those who have been touched by Wong's mentoring is Brook Muller, Dean, College of Arts & Architecture. "So many in our community feel gratitude for Peter's long standing commitment to graduate students in the School of Architecture," Muller said. "He is tenacious in elevating design thinking and quality among all he works with, exposing students as he does to compelling ideas and constructs with profound implications for architectural practice."
Having served as a GPD for 13 years, Professor Wong has been teaching at UNC Charlotte for more than 30 years where he has offered architectural design, history, and theory classes since 1988. He received his Bachelor of Arts in 1981 from the University of Washington in Seattle and earned a Master of Architecture from the University of Pennsylvania in 1985. He is a recipient of a 1996 Design Excellence Award given by the National Organization of Minority Architects (NOMA) and was recognized with a Merit Award in 2004 by the Charlotte AIA Chapter for a workshop and guest house completed in 2003.
Thomas L. Reynolds Leadership Award winners receive $1000, an engraved plaque, and their name is engraved on a perpetual trophy that is on display in the Graduate School offices.
Previous recipients of the Reynolds Leadership Award include Dr. Lara Vetter, English, College of Liberal Arts & Sciences, and Dr. Florence Martin, Educational Leadership, Cato College of Education.
Congratulations to all finalists for the 2020-21 Award:
The Reynolds Leadership Award typically is presented in the fall semester. Ceremonies for the presentation to Professor Wong for the 2020-21 award are pending COVID 19 considerations.